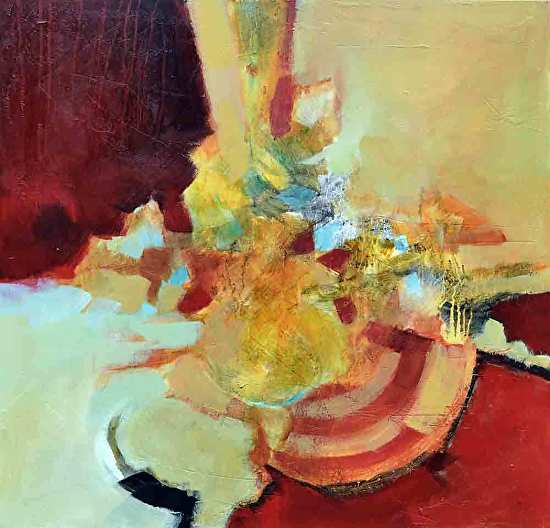 Still-life with Pears
30"x30"x1.5"
Acrylic on canvas
Learning to listen to your inner voice is an important part of being an artist, especially when painting intuitively. This painting was part of a demonstration I did for one of my workshops. It sat in my studio, staring at me, for a couple of weeks. I sincerely meant to put it back up on the easel, but couldn't shake the feeling that there was nothing more I could add to complete it. So, after rotating the canvas several times, I finally saw it! There is a vase of flowers sitting on a circular tablecloth and there are a couple of pears to the left of the vase. Serendipity! The painting practically painted itself and "told" me what it wanted to be! Love when this happens!
Still-life with Pears measures 30"x30". This large textured canvas is stretched on 1.5" bars. The sides are painted in a gray/black micaceous iron oxide. The painting is wired, ready to hang and framing is not needed. It is signed on the side, dated and signed on the back. A Certificate of Authenticity is included.
Free shipping within the U.S.
Prints of this painting will be available soon.
Inquiries by Interior Design professionals welcome!
*****
Original Contemporary Abstract Painting
by
Filomena de Andrade Booth
****
Click here to subscribe to my monthly art newsletter!
#modernart #abstract #contemporaryart #interiordesign #artforinteriordesigners #filomenabooth #wallart
#buyartonline #homedecor